UXKit
Years of expert best practice in user experience research and design is provided to partners of platformOS via extensive documented processes for each project state. This includes practical guidelines and templates to streamline the key research processes: exploratory, generative, and evaluative. Our Figma templates will help you quickly and easily summarize your research results, the information architecture data, and to create the screens flows and interaction design.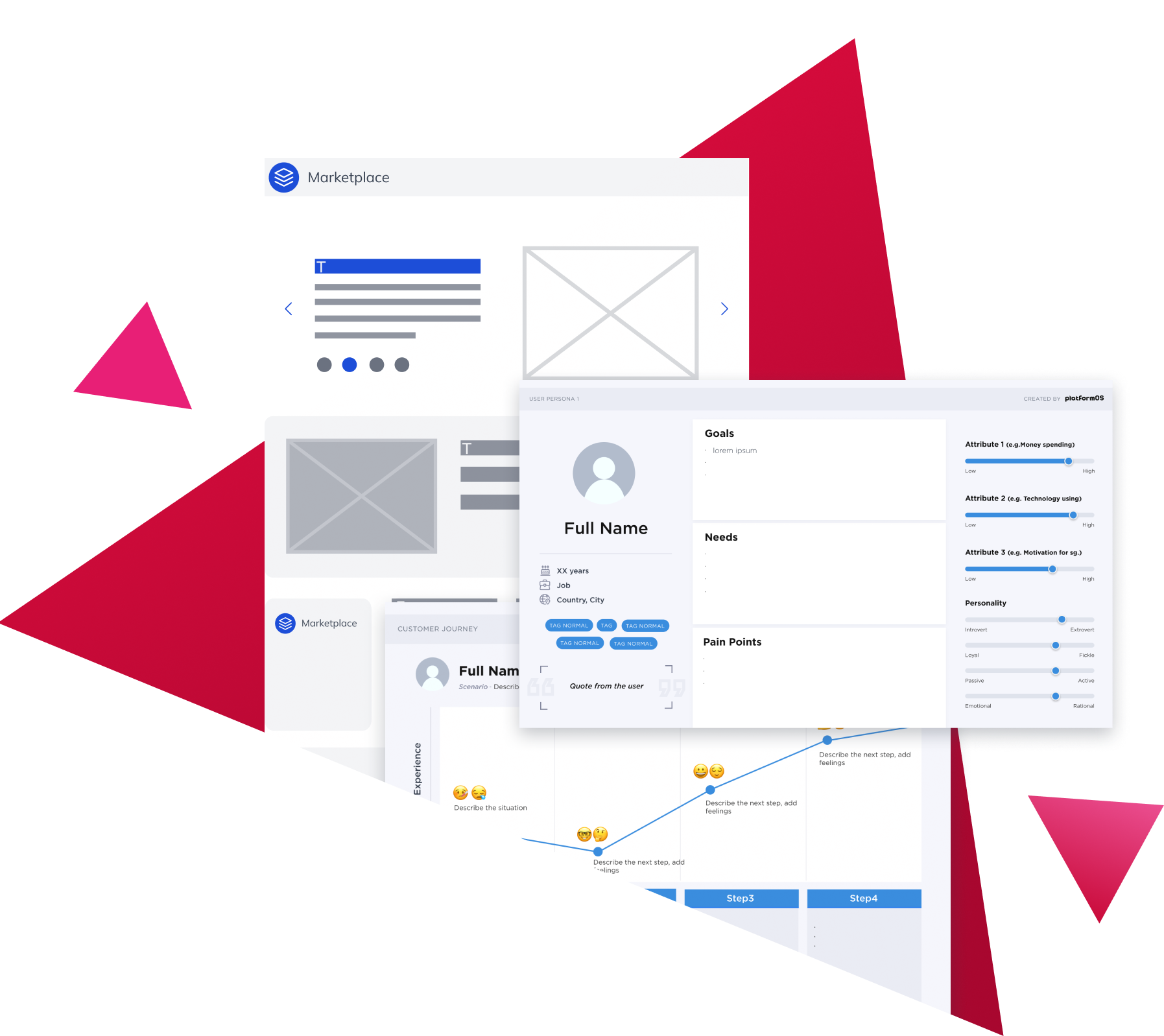 platformOS Kits
DesignKit
As a partner you have access to free design resources and an advanced Design System including a complete set of UI components that will facilitate a fast-tracked and professional aesthetically pleasing outcome for your customers.
CodeKit
Increase your $ margins by substantially reducing time to build scalable platform ecosystem solutions. An extensive portfolio of modular code provides performant Minimal Viable Products for eCommerce Marketplaces, sophisticated Service Marketplaces and Community Portals. And create your own SaaS and mobile apps without limits.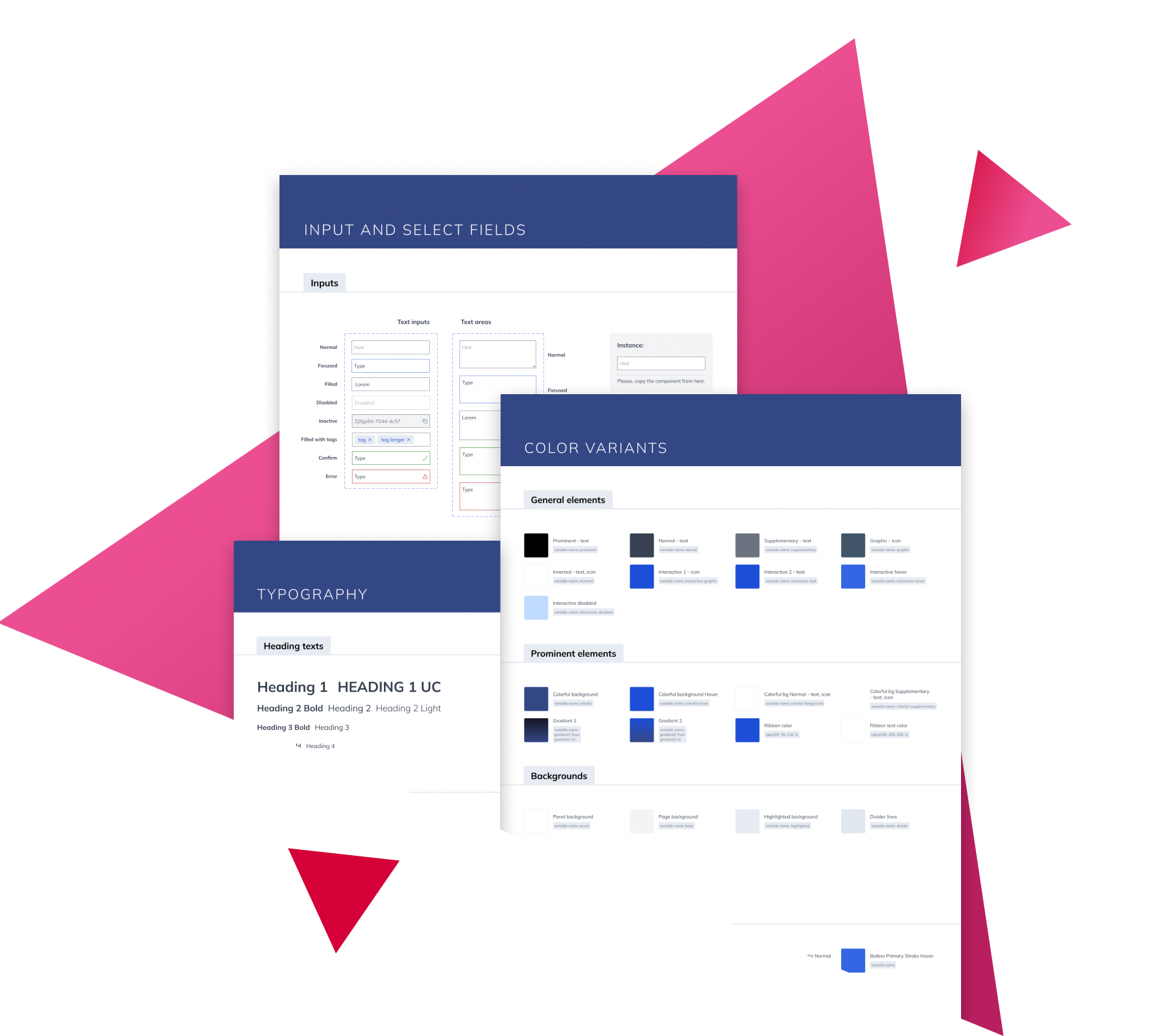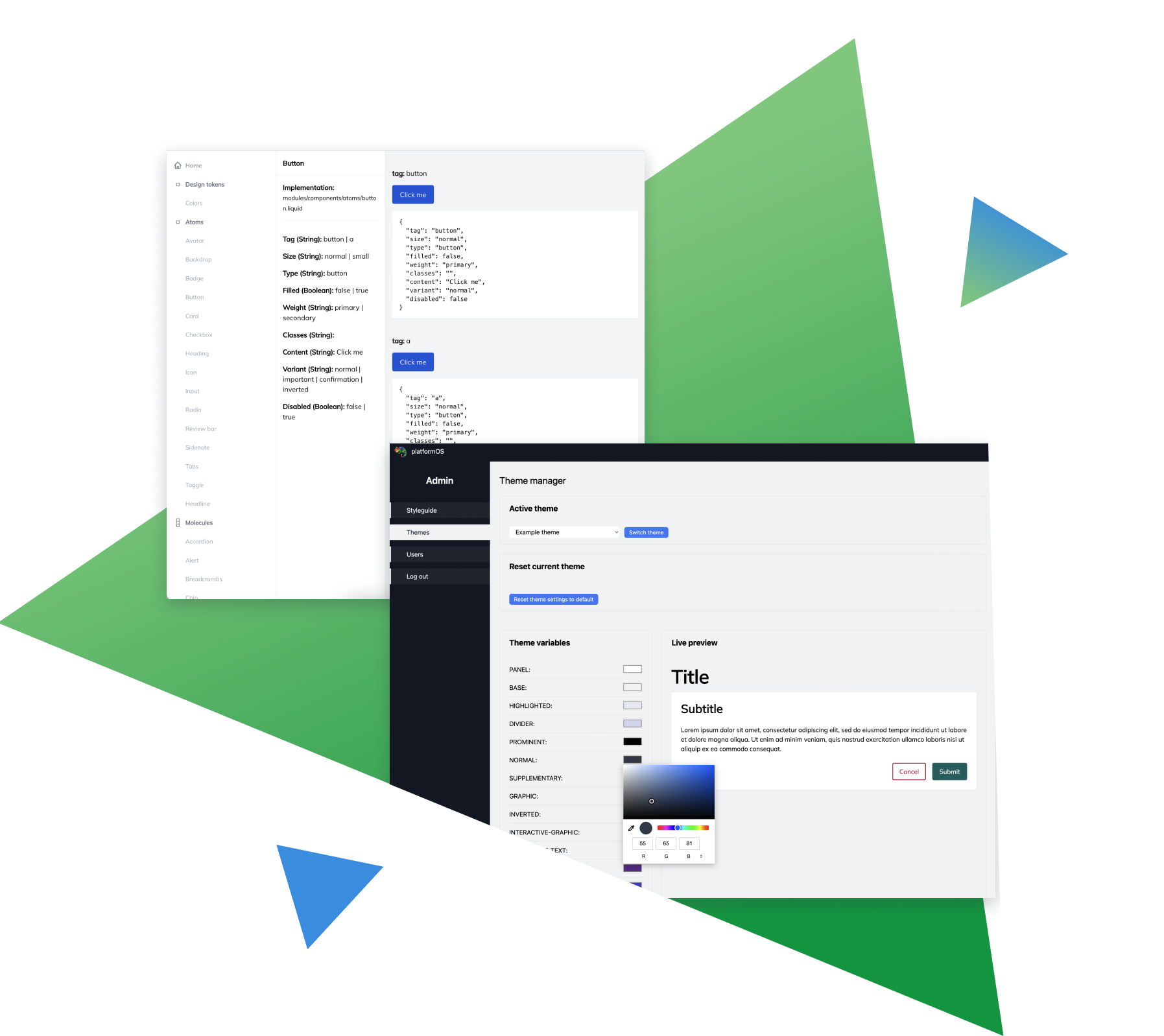 Deploy a best practice and extensible documentation site quickly! Inspired by our multi-award winning documentation site, our documentation package will provide everything you need to build best practice documentation sites for your projects: a docs as code documentation module leveraging platformOS, a git workflow, and a static site generator, configurable color schemes, editorial workflow, templates for different content types, and comprehensive how-to documentation for using the DocsKit.
DocsKit
DevKit
Work as you have always, or leverage the Mac/Linux/PC command line interface tool >_ pos-cli. Spin up Staging, UAT and Production server instances and follow CI/CD best practice. Our RunTime engine will leverage built-in Domain Specific Languages; GraphQL and Liquid Markup and we provide examples for popular frontend frameworks like REACT, Angular, Svelt, Vue and more.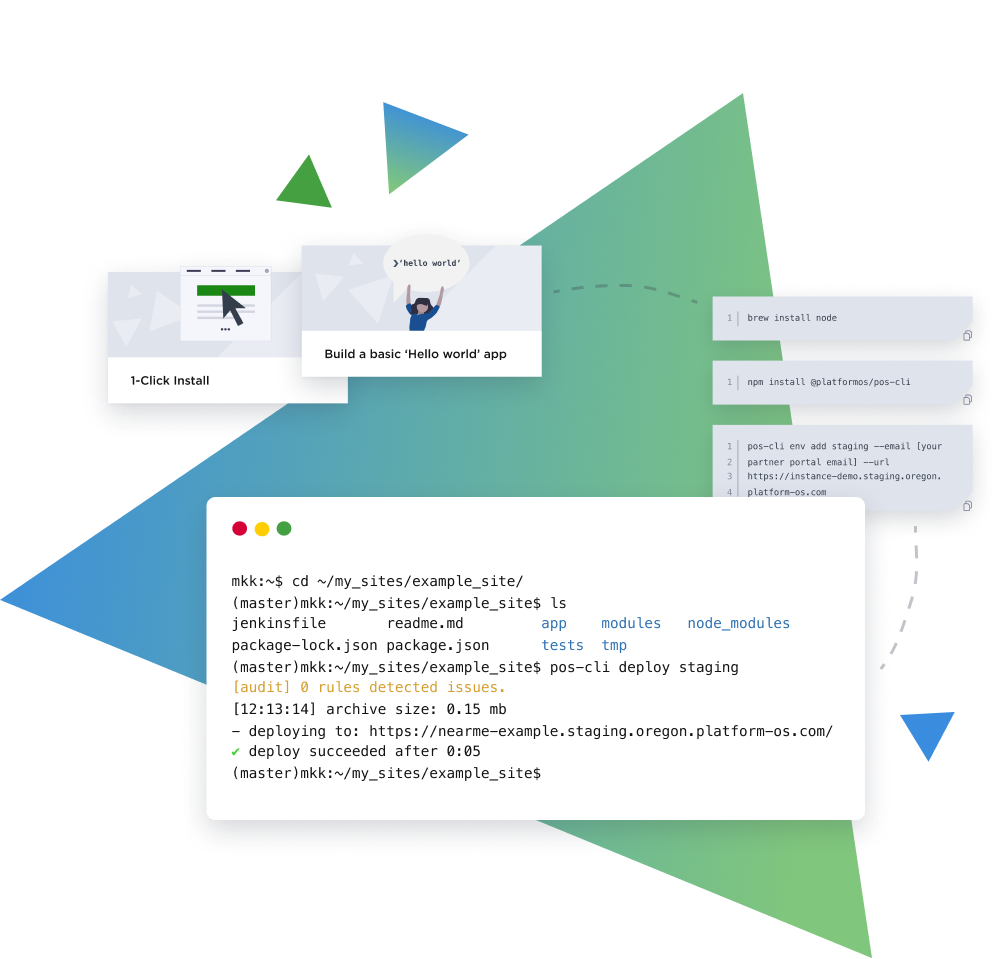 DevOpsKit
If you're sick of the massive cost and time to build, manage, and maintain core infrastructure, platformOS handles this all for you seamlessly. Supporting AWS, GCP or OCI - both multi-tenanted and dedicated server environments. Leverage clustered REDIS, Elastic Search and Postgres environments without you needing to worry about any DevOps tasks, saving you thousands per month in DevOps engineering costs.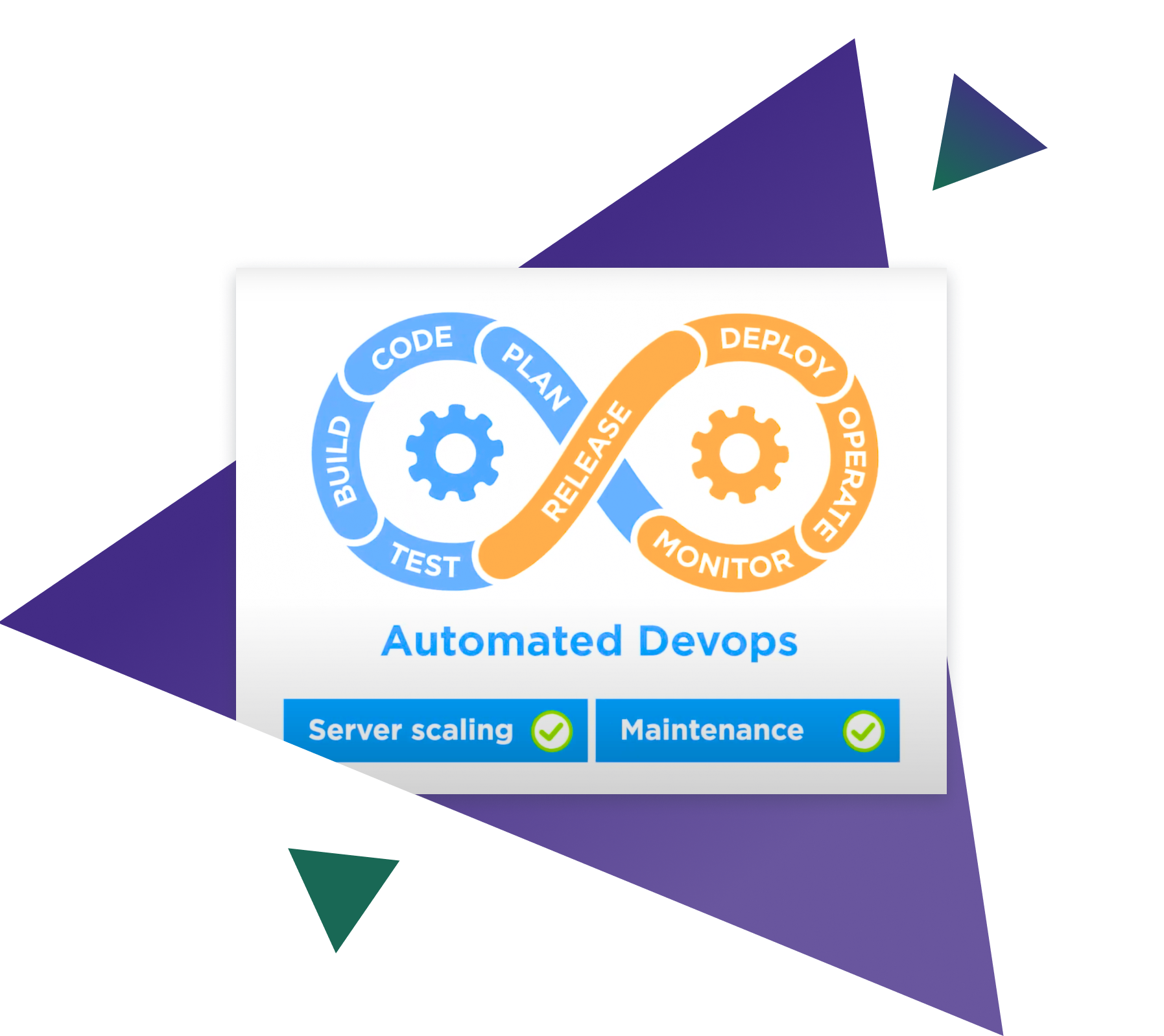 MobileKit
Provided out of the box, as a 'companion app' to the mobile responsive code modules, is our hybrid mobile app wrapper - built in Flutter 3. We have automated deployment scripts for publishing to Google Play and Apple App Store - build your clients mobile apps faster and more profitably.